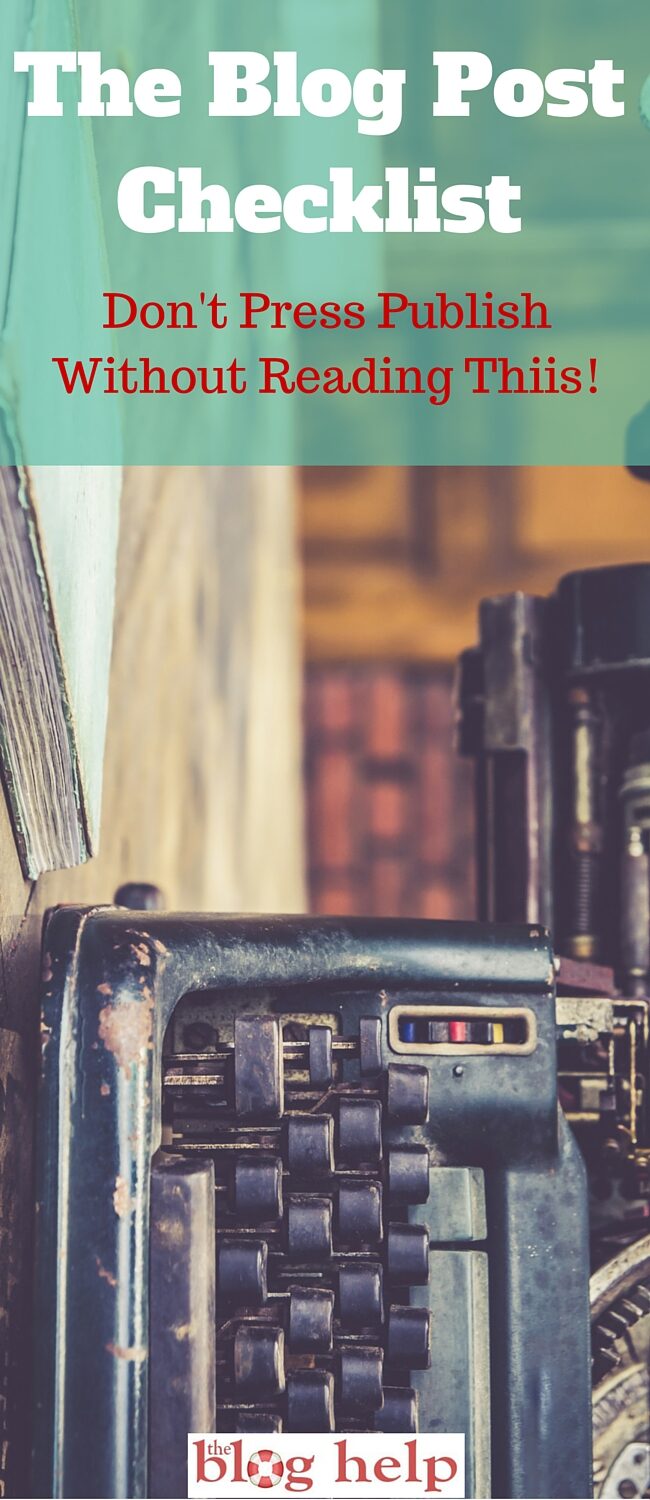 STOP.
Don't press publish.
Well, until you have read this post.
There are certain things every blogger should do before they release their latest masterpiece to their readers – regardless of the niche.
I've read a lot of blog posts, and I've written a lot as well. I've certainly made many mistakes – sometimes because I'm just lazy and sometimes because I just forget. However, I feel like I've gotten a pretty good idea of things you should always try to do before you press publish.
And lucky for you, I'm going to share those with you today. So next time you go to write your post, make sure you mentally check off each of these items.
Grammar and Spelling
I'll admit that I'm not the best at this. Despite being two credits short of an editing minor and being very good about editing other people's stuff, I'm not so good about proofreading my own things. I have this issue where I actually don't like to reread what I wrote, because I always think I sound dumb. Ha! But don't follow my example – proofread your stuff.
My life was made a little bit easier when I download Grammarly. It's a free extension for your browser that tells you when you've made a spelling or grammatical error. I LOVE it. You can get the paid version for more features, but the free version has been great for me.
There are some really intense grammar and spelling sticklers out there, so that's really why you should do it – so you don't get angry comments about how you did something wrong. I've found that they are the meanest commenters! Okay, you should proofread to make sure your content is professional looking and sounding…but the mean commenters really motivates me!
Facts
Don't just make things up – research your posts and make sure the information you are putting is factual. Many of my most popular posts have to do with pregnancy, so I try to make sure I am putting in good, reputable information. However, even if you are writing posts that are mainly opinion pieces or recipes, make sure what you put in there is accurate. If you are writing a recipe post, for instance, and you decide to put the conversions for the metric system, make sure it's accurate!
In addition, if you are quoting something else or you were inspired to make a recipe based on someone else's site, I also think it's important to link to the original source.
Social links
Make it so people can share your post! Most of the time, you can use a plugin or widget that automatically adds these. Personally, I love using Social Warfare. I have worked with a lot of plugins, and this is my favorite, by far. It's very customizable, allows you select exactly which people gets pinned, and it doesn't slow your site down.
It's around $30 a year, but I think it's worth it. If you've ever changed your permalink structure and lost your social share counts, it will also recover it. So many features – I'm just barely tipping the iceberg with my usage of it! I have been using it on Clarks Condensed and hope to install it here soon. On The Blog Help, I use SumoMe currnetly.
In addition to social sharing links, it's a great idea to include ways to interact with your social networks IN the post. For instance, you can create a Pinterest widget for a board you own that is relevant to the post's topic (example here) or you could create a "click to tweet" Twitter widget in the post with an awesome quote in it. Social Warfare gives you the option to create one of those, and I think it's an easy way to increase engagement!
This is a seriously awesome post from Neil Patel (one of the best resources EVER) about what it takes to get massive social shares on a post. I highly recommend reading it.
Backlinks to posts on your site
Backlinks to other posts on your site not only increases your site's authority, but it also helps keep people on your site. I think it's important to reference your past posts throughout new posts if they are related. You want to make your site as "sticky" as possible! You should also make sure there are related posts at the end of the post. You can use a plugin, such as Zemanta, to generate these, or you can create your own to put at the end of your posts.
I recently learned that it's best to make it so links to other posts on your site DO NOT open in a new window. Apparently it counts as a new session if you do this, and it can affect your pages per sesssion negatively. That's something to keep in mind.
Affiliate links
I've been really excited about affiliate marketing the past six months or so. I've started seeing a lot of success – especially since I can use Amazon now. I much prefer affiliate marketing over ads or even sponsored posts because it's passive and easier to incorporate into posts!
You are doing yourself a great disservice by not putting affiliate links into posts. I know some people are concerned that it might spammy to put them in, but honestly, as long as you are providing good content to your readers and you can organically put them in, it's a mistake not to.
I recently learned about a plugin called Pretty Link. It's a great way to make your affiliate links look less spammy. It "cloaks" the link with your site's name, so the links look more legitimate. I haven't had time to get it setup yet, but I've seen it work on other sites, and I think it's an essential for affiliate marketing.
Pinnable image
Images are a necessity for every post. It's what draws people in, and it makes it easier to share. There have been times that I've gone to share a post, and there was no image to pin in sight, so I ended up not sharing it.
Pinnable images are not hard to make. I use PicMonkey or Canva to make mine, and they literally take less than five minutes to do. Here is what one of my typical food pins look like:



And here is one that I just did for a more lifestyle post:
For Pinterest, you really need to do vertical pins. I have found success doing them really long, like the examples above (typically 650×1600), but if you don't like that look, I think 600×900 is a pretty safe bet. If you don't want the long pin to show in your post (which is understandable), if you are using Social Warfare, you can easily set the pin to just show up with a pre-set description when someone press the pin button. It makes life easier!
I also recommend doing a square image for Facebook. Lately I've been doing those and putting it at the top of my post so I can easily grab it when I go to share on Facebook.
PicMonkey and Canva both have free versions (and free trials) that are a good place to start. However, I recommend buying the full version of PicMonkey – it just has more features, and it's not very expensive. Very user-friendly as well. I only use the non-paid version of Canva, but if you do that, be aware that you can't resize your images after you start them without signing up for a business account.
CALL TO ACTION
So, your write this awesome post, everyone loves it…and then the second the exit out, they never come back. This is not how it should go! You need to have some kind of call-to-action in your post – either to sign up for your subscription list or to follow you on some sort of social network. I absolutely LOVE OptinMonster for creating call to action popups and subscription boxes. I have tons of different ones I've created for different posts and scenarios. I always have one set to go off when a person goes to leave the page (called exit-enabled), and I've been very successful with that as well. You can add "like" buttons to your post to remind people to like you on Facebook or a Pinterest follow widget so people can follow you there. Just make sure there is something there to make sure your readers come back.
BONUS
Sticky Blogging
A big part of blogging is writing engaging content. Before you press publish, always read your post and think to yourself, "Would I want to keep reading if I found this on Pinterest?"
I don't recommend a lot of blogging courses. I think most of them are a waste of money and time. However, I came across a course called Sticky Blogging a while back, and I LOVE it. I truly feel that it helped improve my writing, and it's something I think every blogger should consider taking. It may not be open for registration right now, but I recommend signing up for the waiting list (for either the free class or the complete class.)