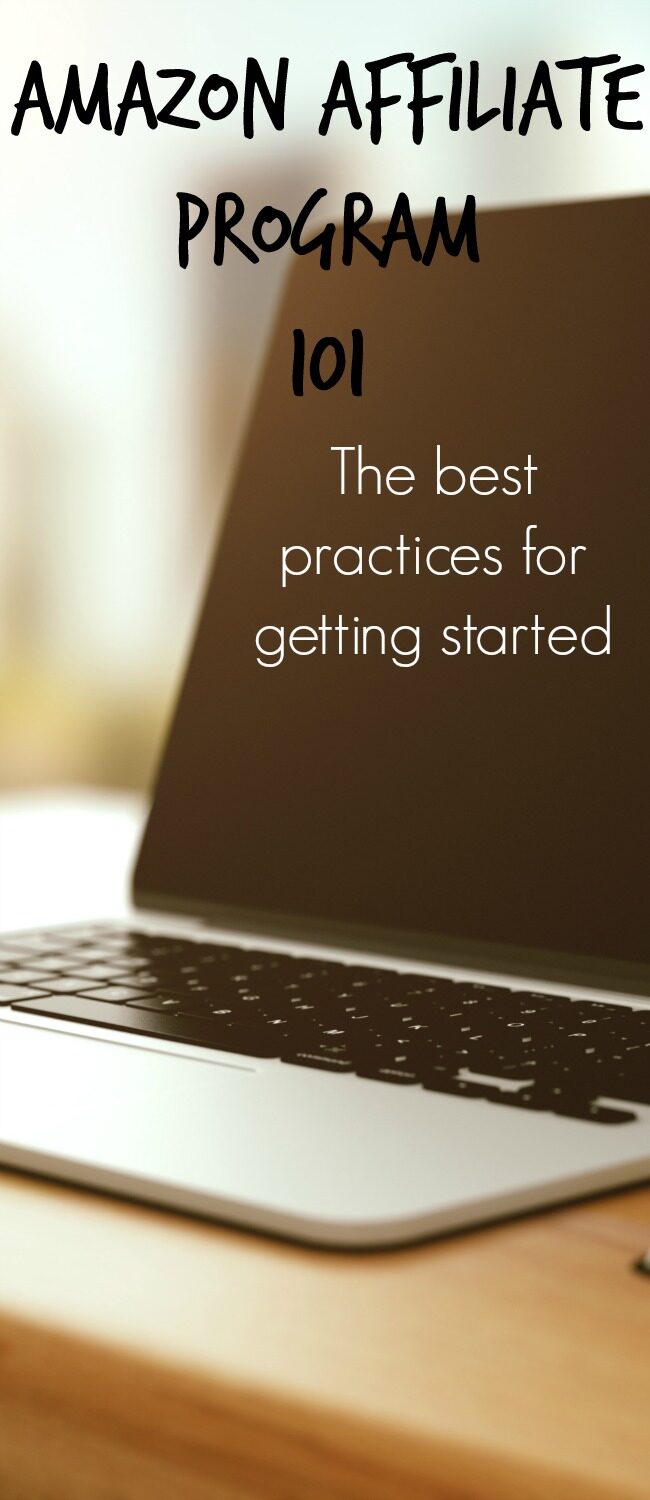 Well, if you are a blogger in Colorado you have may heard the news – we can officially use the Amazon Associates Program for affiliate marketing.
This is HUGE news. While Amazon doesn't offer the highest commission rate, the fact of the matter is this – people LOVE Amazon and do a lot of shopping on there. I was making a good amount of money from the program when we moved to Colorado and were banned from participating. I tried to swap out links to Walmart, Target, etc., but they just did not convert as well.
I mean, I may .30 cents from Walmart in December. It was bad.
Amazon can be a great program to participate in, so I thought I'd share a brief tutorial on how to best use it and get started!
First off, go to Amazon Associates and sign up!
After doing that, you'll just have to login. On the homepage, you will see this:


This is pretty much where you'll spend most of your time. If you have a specific product you want to link to, just type that in to the "Search for a product" section that is in orange above. If you aren't sure exactly what you want, switch over to the "Browse for a Product" and use that.
Once you have the product you want, click on the arrow to the right of the product. At this point, you can choose to copy the full link there, or a shortened version.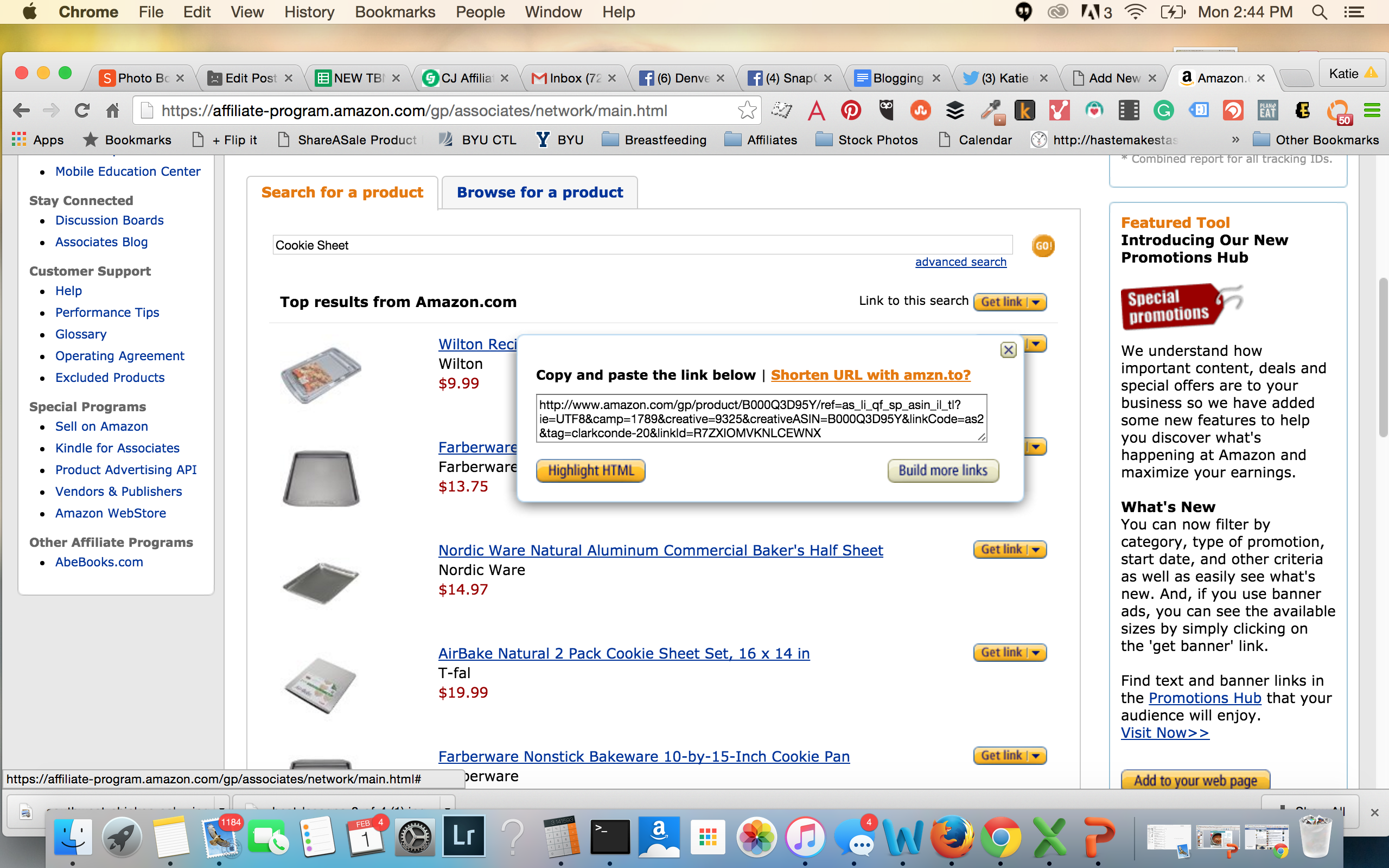 Alternatively, you can click on "Get Link" and you will be given a bunch of different options. You can get an image/link widget, just an image of the product, or just a link. I know a lot of people like the image/link widget because it will sometimes convert more people to buying the product.
And that's really all you need to go started. You can start an Azon store where you can basically make a store to put on your site with your favorite Amazon products. Here is a basic one I started for The Food Nanny. I've also heard great things about the Amazon Native Ads if you are looking to monetize a little more through display advertising.
If you want to skip even logging into the affiliate website and just grabbing links directly from Amazon, once you become an affiliate, there is an affiliate dashboard that will show up at the top of your page. You can grab links from there.


You also must disclose on your site when you are using Amazon links. Here is a great post on how to properly do so, so you don't get shut down!
Tips for Using Amazon Affiliate's Program
Here are just a few ways to jump right in. I do find that it takes a little while to get traction, and you have to experiment with what your audience responds best to. Some of these tips are good for affiliate marketing, regardless of if you are using Amazon for those efforts.
Find your top postsI think the best thing you can do right now is figure out what your best posts are, and then see if you can incorporate Amazon links into it. For instance, one of my most popular posts is this post about alternatives to crying it out. I will go in and put Amazon links to the book I reference, essential oils, the Wubbanub, and more. Don't try and force the links in – try and be organic. My friend, Hilary, has a great post about what to pack in a hospital bag where she's put in helpful Amazon links that I recommend checking out.
Look at outgoing clicksNot everyone will easily be able to tell what people are clicking on to leave their site. If you like Jetpack in WordPress, you can see this information, and you can also set Google Analytics up to help you figure this out as well. Once you can see where people are clicking, you can find places to put links in.
For instance, say you linked to a set of pots and pans that you enjoy using in a post and people are ALWAYS clicking on it! Well, go find that same set on Amazon, replace the link, and
I find this to be super effective, because you know that people are clicking on that link, and chances are, someone is going to buy from it. I do this every month or so, just because some links start performing well out of nowhere.
Make links open in new windowThis is just a good technique for any outgoing link – but make sure your links open in a new window so they aren't taken away from your site!
Keep your eye open for salesThis is really helpful especially during the holidays. People are always up for a good deal, and Amazon is so easy to buy from. If you see something that looks like a killer deal, don't be afraid to share with your readers. Just make sure you put #affiliate in that post!
Make a "Best of" or "Recommended Products" section on your siteMake it easy for your readers to know what products you recommend they use! You can put this at the end of posts (I've seen people put the image widgets at the end saying "these products were used in this post). Or you can do something like Tried and Tasty did at the bottom of her home page, where she has niche specific guides to different products.
Put links in Every postDo this organically, but if you aren't putting affiliate links in every post, you are missing out. You never know when a post will go crazy, or when people will just really be interested in a product you have to mention.
And the thing is, even if they don't buy that specific product, they may buy something else. So many of my former Amazon sales were from products people bought after they initially went to Amazon through my link.
Share interesting productsThere are a couple Facebook pages I follow that are always posting the most interesting (or hilarious) products from Amazon. Ask a question or people's thoughts on them – even if they don't buy that product, there will be a 24-hour cookie to your Affiliate account so you'll get credit for anything they do end up buying!
Don't Rely On ItI know first hand how frustrating it is when all of the sudden you can't use Amazon. I had to really learn a lot about affiliate marketing and experiment with different companies and methods to even make the amount I'm making right now from other venues. There's no guarantees that you'll always be able to use Amazon links. Affiliate marketing can be incredibly powerful, but as with most things when it comes to monetization, diversify. I definitely recommend using Amazon's program, but I also recommend finding other programs that work well with your readers. I'll be sharing a post soon on how I've been successful with affiliate marketing with Amazon soon, so be sure to subscribe so you don't miss that post!
Be AuthenticAs with most things in blogging, be authentic. Don't just shove affiliate links in your readers faces. I've seen many posts people have written that are obviously written just to make a sale, and I don't like it. You want your readers to trust you and your recommendations. I've found that when they do, they are far more likely to buy something from your links anyways!