Are you wondering if Prolific Blogging is worth the cost? I purchased it last year – here's my unsponsored, unbiased review of the Prolific Blogging Course.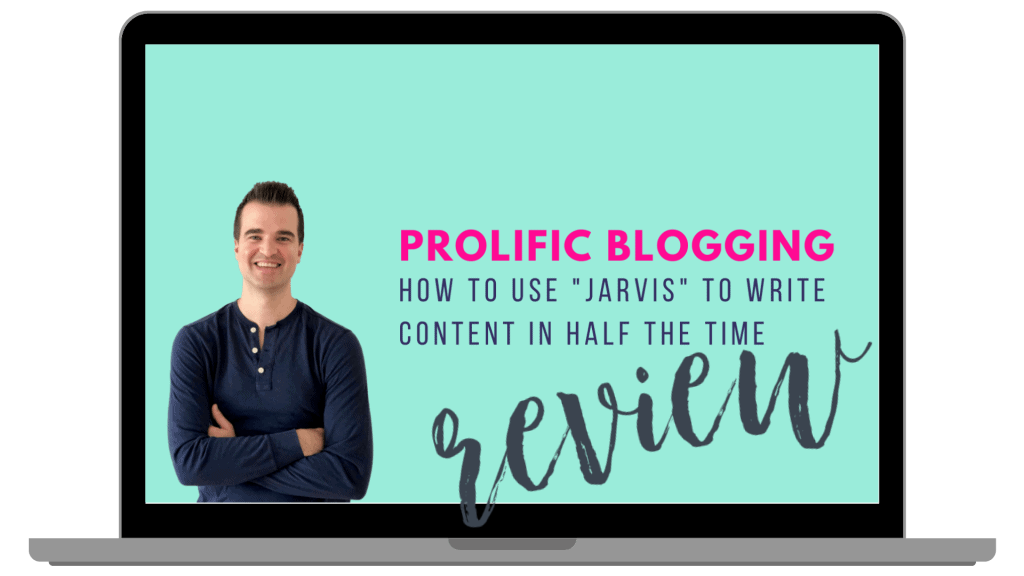 Over the past year, I've shifted from hiring content writers to primarily using AI blogging tools to run my various websites.
There are tons out there, but Jarvis.ai is probably one of the most popular. It's the tool that I use most frequently these days, and I sing its praises to everyone. It has truly changed my perspective and approach toward blogging.
With that said, it wasn't always that way. I almost canceled my subscription last year, but then I saw "Prolific Blogging" and thought, "What the heck. Let's give it another go."
Prolific Blogging is open for enrollment as of today (January 20th), so I thought I'd share a bit of my experience.
Overall Rating
⭐️ ⭐️ ⭐️ ⭐️ / ⭐️ ⭐️ ⭐️ ⭐️ ⭐️
Price
The cost of Prolific Blogging is $197. This is the price I bought at it when it was first released, so I think Mike is keeping pretty consistent with the pricing.
Over the past few years, I've shifted my perspective when it comes to courses and pricing. I have bought a lot of expensive courses and a lot of really cheap ones. Price doesn't always dictate quality.
$197 might seem like a lot to some and super cheap to others. I would say it's pretty mid-range in my experience, especially with the courses I bought.
Because it's so specialized to what is being taught, it's not something I would buy if I had no idea what Jarvis was or had no intention of using it. However, if you have dabbled in Jarvis and feel kind of confused, I think it's worth the investment.
You can probably piece together tutorials for Jarvis on YouTube or even from the Jarvis database itself, but the benefit of the course is that it's all in one spot, and it is geared specifically toward bloggers. I think that the price is fair, and I would definitely pay it knowing what I know now.
Length
This course will take you a couple of hours to do from start to finish. However, when I took it, I felt like I was easily able to bounce around from lesson to lesson. I had an okay handle on Jarvis, so I was able to skip some of the more advanced lessons pretty quickly.
Each of the lessons are between 5 and 10 minutes each, so they are pretty easy to watch and digest. I still go back and reference them from time to time.
Quality of Lessons
I always enjoy Mike's courses. He's easy to listen to, concise and gets to the point pretty quickly. He's probably one of my favorite course creators out there. He doesn't say "um" over and over again, and he is pretty confident when he is talking.
He takes you through various screen shares and describes exactly what he is doing. I found the videos interactive, and I was easily able to duplicate his results when I did similar content in Jarvis.
I also like that he doesn't require that you signup for a million different tools in order to get the same results as he does. He does have some training modules that include Surfer SEO or Copyscape, but they definitely aren't required.
What does this course include?
The Prolific Blogging program includes 30 video lessons – it's broken into three "core" modules:
Getting Started with Jarvis
Writing Blog Posts with Jarvis
Blog Post Example Walk Throughs
I really love that he does a walk-through of various types of blogs, such as recipes, how-to posts, travel posts, Q&As, ultimate guides and a "best of" blog post. They are all focused on different niches, too, so this course is applicable to a wide variety of audiences.
In addition to the video lessons, there are several bonuses:
Working with "recipe" templates (I found this beneficial as I was super confused by recipes in Jarvis)
Writing Pin Titles and Descriptions
Writing emails with Jarvis
Using Surfer SEO with Jarvis
8-week popup Facebook Group
One thing about Mike's courses (I have taken three, including Niche Site Academy and Stupid Simple SEO – I will do a review of these soon) is that he provides SO much content and value. I have never walked away thinking, "Wow, that was a huge waste of money" (which does happen with a lot of courses I've taken). He really delivers in terms of providing a lot of helpful content.
Guarantee
Mike offers a 14-day guarantee – if you don't get the hang of Jarvis and LOVE his training – you can get a 100% refund.
My Experience
I had a basic understanding of Jarvis when Mike came out with this course, but I was on the fence about if I wanted to renew it. More often than not, I was struggling to get the output that I wanted, and it seemed like a bit of a waste of money.
Then Mike started sending out emails about how Jarvis had changed so much of his writing, and I thought, "Well, if it's good enough for Mike – who has been extremely successful with niche websites – it should be good enough for me."
I bit the bullet and bought the course when it was released, and I'm being 100% honest when I say it was life-changing. I don't know why, but all the tutorials I had read and watched hadn't clicked. However, Mike explained how to use Jarvis in a way that I could easily apply to my websites (I have a DIY/Lifestyle website, recipe website, breastfeeding website, and travel website – with others in the works).
After going through his course, I truly feel like I mastered Jarvis. It allowed me to stop hiring out so much content – especially for my recipe website – and use Jarvis for the powerful tool that it is.
Jarvis is one of the most valued investments I make with my business each month, and I can thank Prolific Blogging for that.
How to Signup
Prolific Blogging is only open for registration for a few times during the year. You can check and see the status here. However, if it's not open, make sure to get on the waitlist. It is definitely worth the wait!
What has been your experience with Prolific Blogging? I'd love to hear your experience in the comments!