When it comes to eLearning platforms, there are a lot of them to choose from. And, it can be hard to decide which one is the best for your business. In this blog post, I'll be reviewing Thrive Cart Learn, an e-course platform that many people are using nowadays. I'll be sharing my experience using the platform and giving you my honest opinion. So, if you're interested in learning more about Thrive Cart Learn, then keep reading!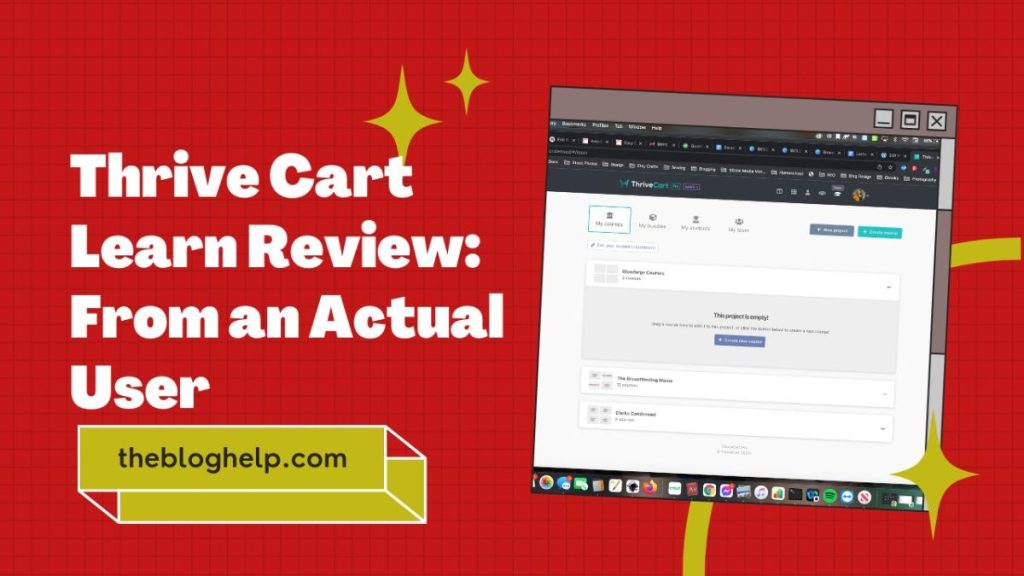 Creating online courses is a booming industry right now – and there are a million platforms (okay, exaggerating a little bit) available
For some background, I have been using Teachable for the past few years. When I started creating courses, that was the main platform people used, so I just signed up and got started there. It's been fine, though it has plenty of downsides. I sell a couple of different Online Breastfeeding Classes.
Before the announcement of Learn, I was in the process of switching my course over to be self-hosted using LearnDash LMS. This is also what we use for hosting our courses here in Best Blog Courses. I was doing this primarily to save money and because I have the skills for troubleshooting and upkeep. However, I abandoned those plans quickly after learning and trying out Learn.
I am currently still in the process of getting everything transferred and set up, and this review is an overview of my experience so far. When I have the course live, I will add in additional information.
How Much Does Thrive Cart Learn Cost?
Let's talk with the million-dollar question – how much is Thrive Cart Learn going to cost you.
The good news is – if you already have Thrive Cart, it's not going to cost you anything for their base-level course creator.
This includes everything you need to create a course
If you don't have ThriveCart already, there is going to be a bit of an investment. ThriveCart offers two plans – Pro and Standard. Here is a little comparison chart.
| | | |
| --- | --- | --- |
| | ThriveCart Standard | ThriveCart Pro |
| Lifetime Access | YES | YES |
| One-Time Fee | YES | YES |
| Access to Learn Course Builder | YES | YES |
| Unlimited Carts and Checkout | YES | YES |
| Unlimted Products (physical and digital) | YES | YES |
| Integration with Stripe and PayPal | YES | YES |
| One Click Upsells/Bumps | YES | YES |
| Mobile Payments | YES | YES |
| A/B Testing | YES | YES |
| Abandon Cart | YES | YES |
| Subscription Management | YES | YES |
| Funnel and Cart Templates | YES | YES |
| Integrations | YES | YES |
| Two-Step Cart | YES | YES |
| Coupons and Discounts | YES | YES |
| Custom Domain Name | NO | YES |
| Affiliate Management | NO | YES |
| Automatic Sales Tax | NO | YES |
| Subscription Saver Functionality | NO | YES |
| Client Usage Rights | NO | YES |
| Advanced User Management | NO | YES |
| Joint Venture (JV) Contracts | NO | YES |
| Intelligent Business Projections | NO | YES |
| Price | $495 | $690 |
Both plans include the standard Thrive Cart Learn Course Builder, which is fantastic. For many people, this is all you will need. However, if you will be moving over from another platform
CLICK HERE TO SIGNUP FOR THRIVE CART
What Does Thrive Cart Learn Include?
Should I Upgrade to Learn+
While the basic features are great for people who are just getting started with creating courses, you should probably upgrade to Learn+, especially if:
You want to import people from other platforms
You want to offer bundles
You have multiple team members
You want access to advanced sequences/tagging
Price Comparison to Other Platforms
Here are the four pricing options you are looking at with ThriveCart with Learn.
ThriveCart Standard – $495
ThriveCart Standard and Learn+ – $690
ThriveCart Pro – $690
ThriveCart Pro and Learn+ – $885
These are all LIFETIME deals. Here is the average cost for other popular eLearning platforms:
Kajabi – Between $119 and $319 per month (if you pay yearly. Month to month is more expensive)
LearnDash – $159-329 per year
Thinkific – $0 to $99.
Teachable – $0 to $249 (when paid yearly).
Keep in mind that the $0 plans for the platforms above may have limits on products, how many students, and increased transaction fees.
What I Love About Thrive Cart Learn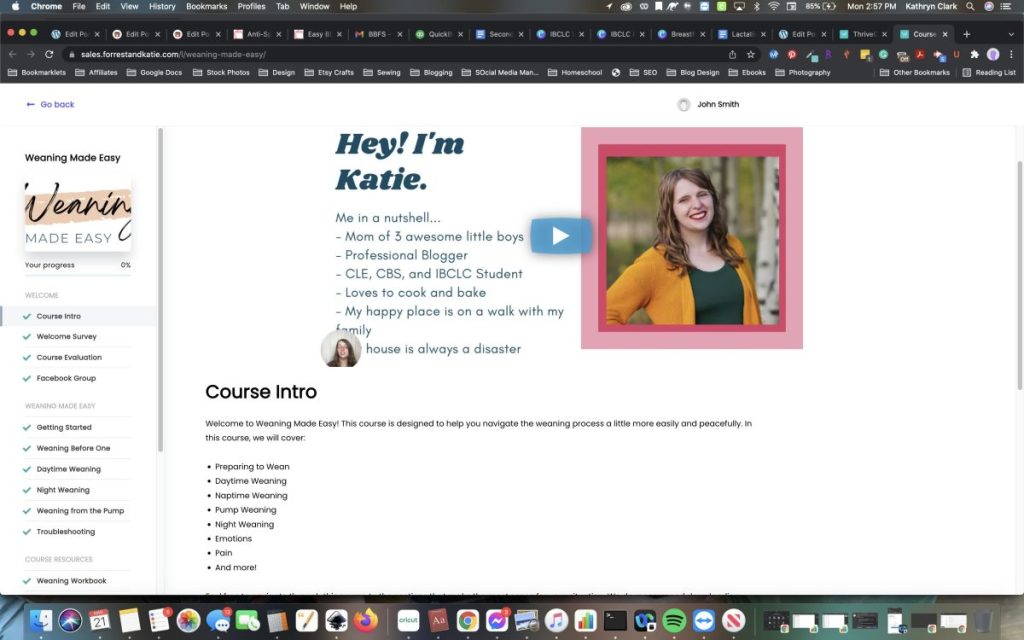 Pricing
At the end of the day, I love how affordable this option is. If you already have
Thrive Cart, it's included – free, forever! Then the upgrade isn't bad.
I was paying nearly $1000 a year for Teachable, and for someone like me who isn't making *a ton* of money with my courses yet, that number made me feel sick. I just love that I don't have to worry about the ongoing costs of a course platform anymore.
Flexible
There is a fair amount of flexibility with Learn. Right out of the box, it functions pretty well – but you can change colors, the login page, how it looks, etc.
Unlimited Access
You aren't limited to a certain number of courses. You can have as many as you want! You can also make multiple projects for better organization and user experience.
Drag and Drop
I like that everything is drag and drop. You don't need to know a lick of HTML to get things to work how you want them. to.
User-friendly
It's both user-friendly for those creating the courses and those taking them. I think it's pretty easy to navigate, and I haven't had any complaints from my students.
Nice Course Layout
I really like the course layout options. It makes the courses easy to navigate and figure out where you are in the course.
Connects with Thrive Cart Seamlessly
This is the real clincher – if you are already using Thrive Cart, it is SO easy to have people go straight from checking out to be enrolled in the course.
Can offer bundles
It's really easy to create a bundle of courses. For instance, I offer an "All Access" Pass for my breastfeeding classes, and it was really easy to configure it.
What I don't love about Thrive Cart Learn
Commenting
Thrive Cart doesn't have a commenting feature currently, which is a little annoying. You can install your own widgets, but it has to be individually coded into each page. There are a lot of paid options, but I found a great free option called CommentBox.io. It is free for up to 100 comments a month, and then if you go above that, it's just $10 for unlimited.
Transfer Process
Transferring from Teachable was a pain and took a lot of work. The content didn't transfer over very well with copying and pasting, so I had to go in and reformat everything.
I wish there was a way to just transfer over everything, but I'm not sure any course platform would have an option for that.
Pay for upgrades
While the base plan is included with your Thrive Cart plan, if you want to have some additional helpful features (such as importing subscribers from another platform), then you do have to pay a one-time feed to upgrade.
Hard to Import Individual Members
The only want to important course participants is by uploading a CSV file. I wish there was a way to import an individual subscriber, but this really isn't possible.
You can send someone a one-time link to enroll, which seems to be the only way around this.
A little blah
Right out of the box, it's kind of boring looking. It's very functional and easy to use, which is great. But if you want something super visually appealing, this isn't it.
You can't buy it without buying Thrive Cart
It is designed to work with Thrive Cart, so you can't use it without a Thrive Cart subscription.
Hard to Integrate with Other Platforms
As far as I can tell, it is hard to integrate with other platforms. Obviously, it is designed to work with people who are using Thrive Cart as a platform. However, if you were going to switch to another checkout/landing page program, I couldn't find an easy way to automatically enroll people into Thrive Learn.
Who is Thrive Cart Learn Best For
Businesses that…
Already use Thrive Cart for their checkout experience
Are looking to cut back and costs
Want to easily create courses
Want a simply user experience for students
Overall, I do think that Thrive Cart Learn is a fantastic product. I have moved all my courses over to it, and I have had no complaints. I love that I never have to pay for my course platform again!
What do you think about Thrive Learn? I'd love to hear your experience and thoughts in the comments!